Exquisite Infinity Pools That Will Blow Your Mind – 30 Photos
An infinity pool is a swimming or reflecting pool that produces a visual effect of water extending to the horizon, vanishing, or extending to "infinity." The term also is used to describe perimeter overflow pools (pools that may be on level parcels, wherein the water flows over one or more edges, usually flush with the decking elevation). One type of location in which the effect is particularly impressive is where the infinity edge appears to merge with a larger body of water such as the ocean.
Infinity pools are very expensive and require extensive structural, mechanical (hydraulic engineering) and architectural detailing. The summer season is going to start soon and to give you an idea where to go for swimming for your next vacation we are showcasing 30 photos of exquisite infinity pools that will blow your mind. You will see some of the world's best designed pools in the collection. Infinity pools are surely the most beautiful man-made pools in existence. We hope you will love these pool photographs. If you know something about other infinity pools, kindly share it in the comments below. We will also appreciate if you share this with your friends. Enjoy!
If you like this article, you might be interested in other articles on Buildings with Amazing Architecture and Extraordinary Houses You Would Love to Live in.
Cabo San Lucas Mexico
Sheraton Kona Resort & Spa at Keauhou Bay – Pool
Sheraton Kona Resort & Spa at Keauhou Bay – Pool
Cote dAzur Seafront Hotel
Infinity Pool
Hotel di lusso: Therasia Resort a Vulcano
Hotel di lusso: Therasia Resort a Vulcano
Anantara Dhigu Maldives Infinity Pool at Sunset
Anantara Dhigu Maldives Infinity Pool at Sunset
Marina Bay Sands Infinity Pool
Marina Bay Sands Infinity Pool
Italian Infinity
Pangkor Island, Malaysia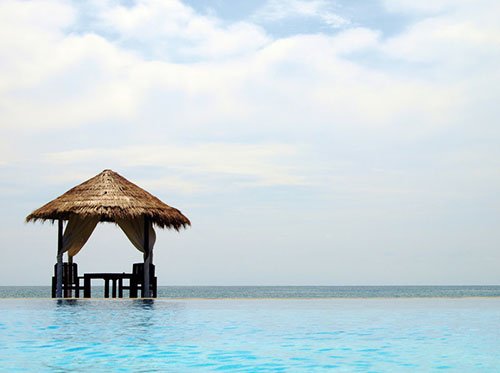 Pangkor Island, Malaysia/strong>
Zero Edge Infinity
Secrets Wild Orchid Pool
To Infinity and Beyond
Acuatico
Infinity Swimming Pool
Infinity Bue
Cabo Infinity Sunset
San Juan, Batangas
Infinity Pool at Anantara Dhigu, Maldives
Infinity Pool at Anantara Dhigu, Maldives
Fregate Island Private
The Sarojin Swimming Pool
Ko He Sunset, Thailand
Beach Resort, Ras Al Khaimah UAE
Beach Resort, Ras Al Khaimah UAE
Singapore Infinity Pool
Azure Aegean & Whiteness Hotel
Azure Aegean & Whiteness Hotel
Phukat Infinity Pool
Infinity Pool – Marina Bay Sands
Infinity Pool – Marina Bay Sands
Infinity at LikuLiku
Balance on the Edge
Jetsetting on the Arabian Sea
Hilton Hotel in Pattaya, Thailand
Hilton Hotel in Pattaya, Thailand